We offer a wide array of trucking services in the New York City area and beyond. We service all  five boroughs, as well as Westchester and Rockland counties, and northern New Jersey. So whether you need a flatbed in the Bronx, a lowboy in Brooklyn or a boom truck in Manhattan we are here to service your needs. Our trailers range from 30 to 75 feet in length and our highly trained drivers will deliver to your jobsite or storage facility 24 hours a day, seven days a week.
We offer a wide range of knuckleboom services in Manhattan, Queens, Brooklyn, The Bronx, and Staten Island as well as surrounding area. Our state of the art equipment and highly skilled operators will deliver and offload your cargo safely and securely at your jobsite.
We transport and offload a wide range of product including glass, steel, AC equipment, generators, transformers. If you have it we can deliver and offload it.
We offer a wide range of rigging services and can provide supplemental equipment including fork lifts and containers to facilitate the safe movement and positioning of your material.  
Our rigging operators are highly trained and are certified through the National Commission for the Certification of Crane Operators (NCCCO). All our operators participate in a comprehensive in-house progressive development training program.
Other services offered include the rental, installation and removal of Jersey barriers.
We offer storage and warehousing to meet all your storage needs. Whether you need outdoor or Indoor storage we can help. Our indoor storage facility is climate controlled making it suitable for storing wood, flooring and other temperature sensitive construction materials.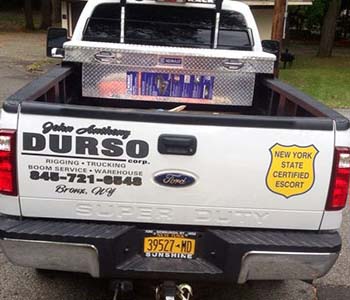 Need a New York City or surrounding area escort permit today? If so we can help. Dusro can provide permitted escorts for oversize loads in NYC, in New York State, and in surrounding states.